Printer-friendly version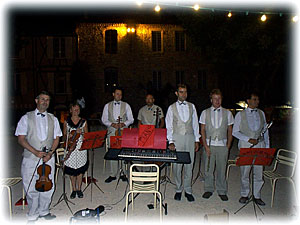 The Aspidistra Drawing Room Orchestra is an orchestra that specialises in the type of light classical music that is usually referred to as "Palm Court Music" or "Salon Music". In the late nineteenth and early twentieth centuries, there was an enormous appetite for light music.
Palm Court Orchestras, like Aspidistra, provided musical entertainment for almost all festivities.
Before recording techniques were widespread and before piped music had made an appearance, these small orchestras were required to play all the popular tunes of the day. Grand hotels, restaurants, cinemas and department stores all had their own orchestras.
These small bands played arrangements of the favourites of the concert platform, the operatic stage and the music hall. They also played a lot of music specially composed for small ensemble and it is this music, now rarely heard, that we enjoy playing most.
The Aspidistra Drawing Room Orchestra started, from very small beginnings: a group of friends and a folder of music. However, since the mid 1990s, we have steadily expanded our repertoire. We continually hunt for new material. We search in private collections, in libraries and in the archives of the various publishing houses.
Each year, we travel abroad for a week to try out an ever-increasing pile of music and each year we have been delighted to discover yet more gems from the Palm Court era. We are amazed at the amount of good music that has been forgotten or neglected.
Every year we find some new tuneful and witty compositions, well-orchestrated and with instant appeal. Surprisingly, often this material does not appear to have left the archives for some 80 years.
The results of our week abroad is first put to the test in a local venue. Bemused audiences in Spain, Sicily, France, Tuscany and Madeira swiftly took a shine to British Palm Court music.
Eventually, back in London, many connoisseurs of the genre get to share the experience at our annual May Bank Holiday concert.
Aspidistra made their Radio debut when the BBC used some tracks from the Best of Palm Court as background music for the radio play Tears of War on Remembrance Day 2002. Since then our recordings have been heard regularly on Brian Kay's light programme and as background music for other radio plays.
The music was also used for The Producer Prince, a TV documentary based on interviews with Prince Alessandro Tasca di Cuto, the son of an illustrious Sicilian family. Sadly his father squandered the family fortunes and died penniless in 1927.
Like many humbler Sicilians, Alessandro went to America to find a better future for himself and his grieving mother, eventually becoming an important producer in Hollywood. He worked with most of the early Hollywood stars and has many stories to tell. The tune Softly Unawares is heard frequently throughout this documentary.