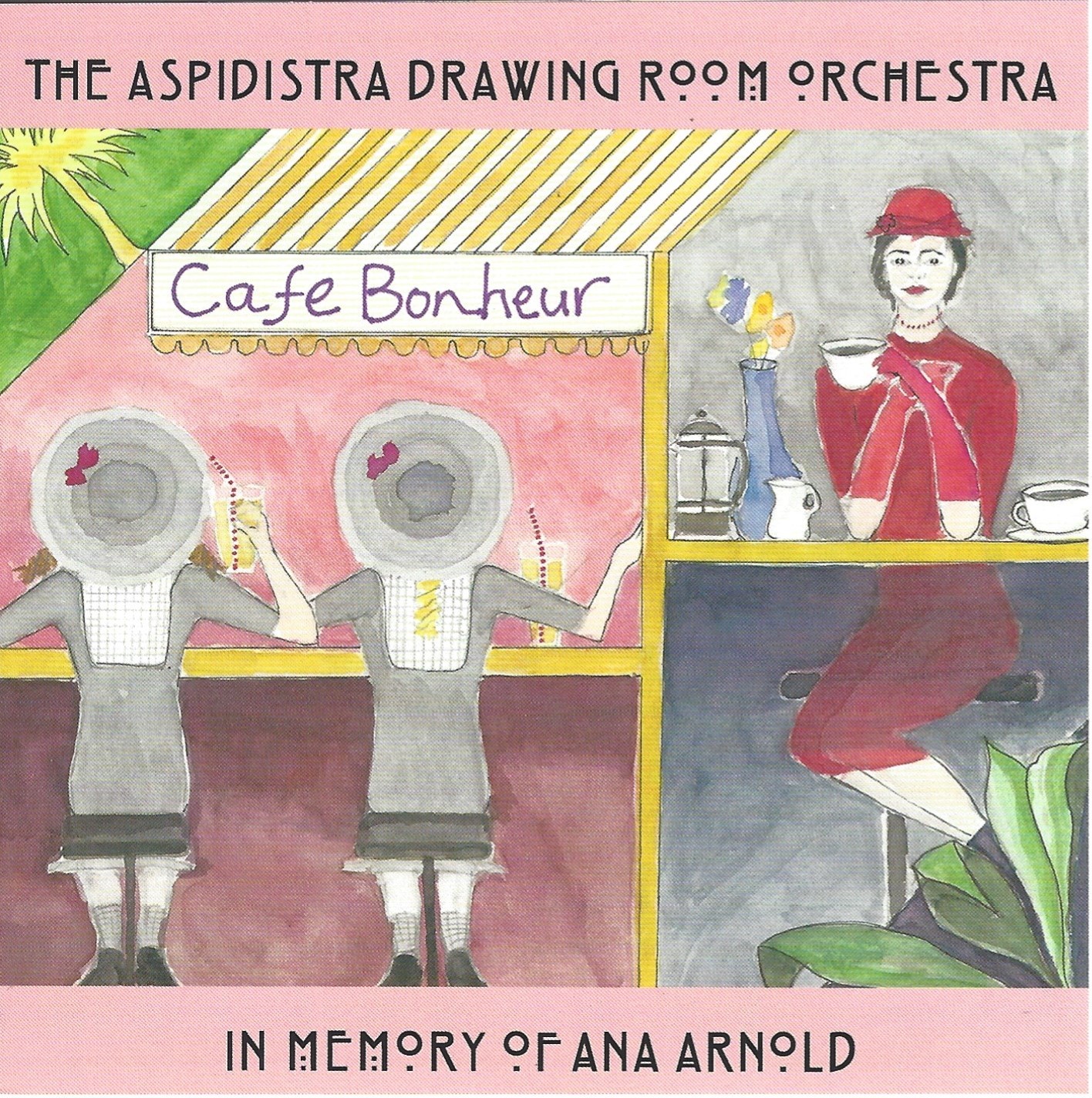 We're delighted to let you know that we've now received the CDs of
'Café Bonheur',
our brand new recording and we plan to launch it at our annual concert at Lauderdale House, Highgate, N6 5HG on 12th June, next Sunday afternoon starting at 2:30pm
Both the concert and the CD are dedicated to the memory of Ana Arnold, our flautist, who died in a tragic road traffic accident four month ago. We'll be performing some of the music that Ana especially liked and some works she arranged for us. Despite that background, we don't intend this to be a mournful occasion because we like to think Ana is still with us in spirit and her spirit certainly was full of fun. With the CD and the concert, we particularly want to celebrate her joie de vivre.
Like the artwork for our previous CDs, the cover for

'Café Bonheur'

is by GP and talented painter Henry Mintz. It features 'Girls in Grey' and 'The Lady in Red at Cafe Bonheur', although in the event the Lady in Red didn't make it onto the recording.
The CD features:
Banderilleros

, Passo doppio Spagnuolo (2.34) - Vincenzo Billi [1869-1938] arr: Adam Bakker.
Eternally

, from the film 'Limelight' (2.50) - Charlie Chaplin [1889–1977] arr: Adam Bakker.


Pony

, Foxtrot-Intermezzo (3.08) - Joe Rixner [1902–1973] arr: Ana Arnold


When I Grow Too Old to Dream

, from 'The Night is Young' (3.47) – Sigmund Romberg [1887 – 1951] arr: Liz Menezes.


The Continental

, from the film 'The Gay Divorce' (2.56) – Con Conrad [1891– 938] arr: Ana Arnold.


Mississippi Melody

, Beguine Moderato (2.57) - Ernest Tomlinson [1924-2015] under the pseudonym of Alan Perry (arr: Adam Bakker)


Hunky Dory

, Cake Walk and Two-Step (2.58) – Abe Holzmann [1874-1939] arr: Adam Bakker.


Extase

, Rêverie, (4.17) - Louis Ganne [1862-1923] arr: Adam Bakker.


Picknick

, Intermezzo (3.53) – Ludwig Siede [1888-1956] arr: Adam Bakker.


Loving You

, Foxtrot (3.13) – Ted Shapiro [1899-1980] arr: Adam Bakker.


La Morenita

(The Brunette), Tango (1.47) – Mátyás Seiber [1905-1960] under the pseudonym of G.S. Mathis (arr: Roy Bell)


Die Lustige Fiede

l, Fiddle Foxtrot (3.22) - Rudi Rischbeck [1903-1988] arr: Adam Bakker.


Beachcomber

, Moderato (2.41) - Clive Richardson [1909-1998] arr: Adam Bakker.


Girls in Grey

, March (2.36) – Charles Williams [1893-1978] arr: Roy Bell.


Love-Light

, Waltz Song (2.50) - Haydn Wood [1882-1959] arr: Liz Menezes.


Café Bonheur

, Valse Musette (3.52) – Henry Krein [1905-1993] arr: Martin Cleave.


Day Dreams

, Morceau de concert (5.44) - Haydn Wood [1882-1959] arr: Adam Bakker.


Il Seraglio

, Ragtime Waltz (6.31) - Harry Wood [1868-1938] arr: Ana Arnold.


Heather on the Pampas

, Tempo di Joropo (2.25) – Sydney del Monte [1915-2004] arr: Ana Arnold.


Hard Hearted Hannah

, The Vamp of Savannah (2.48) - Milton Ager [1893-1979] arr: Liz Menezes)